Purpose: The five individual videos correspond to the lessons learned I shared in my reflection/research paper: Learning is My Mission. The videos are NOT me simply reading my paper. Rather, I will showcase what I learned with artifacts from my practice and explanations of how the EDTECH content has changed my practice. The long video is simply each shorter video "stitched" together.
Reflections on Learning

The DEsign & Evaluation of Instruction

The ARt & Science of Teacher

Networking & Collaboration
The Research-Practice Connection
The Collection of LEssons Learned
(Long VERSION)
Powered by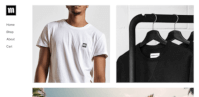 Create your own unique website with customizable templates.